AMC AVIATION Through its EASA 145 Maintenance Organization FR.145.0674 provides Line Maintenance to several clients:
• ETOPS Preflight Check, Transit, Daily, Weekly, Ramp Check, up to A Check,
• Work Orders or Work-Packages, 
• Unscheduled maintenance
• In-Depth Troubleshooting, 
• Aircraft short & long storage, 
• Aircraft Return to Operation (RTO), 
• Flying spanner services, 
• Engines Wash & Boroscope inspections together with engines change services. 
• Parts storage & associated Logistic support, 
• Cabin defect rectification,
• Structural repair support (engineering and repairs),
• On request Part 66 contractors for Major MRO checks and Aircraft Field representative services,
• AOG support 24/24 - 7/7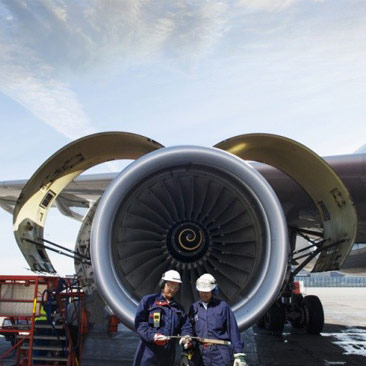 RATING A1 LINE MAINTENANCE

Through the geographical extension of the approval, AMC AVIATION sets-up the complete line maintenance structure in a very short time, and makes it acceptable to airworthiness authorities of any country your aircraft may be registered in.
Such an approach in a start-up phase, or Ad Hoc operations of an airline would save immense time and costs and would allow its management to concentrate on all other commercial and operational problems.
Once the operation has started, we can assist the airline in gradually taking over the control of their aircraft line maintenance by putting in place an in-house maintenance, logistic and engineering departments of the highest standards.
A specific Cabin Team is dedicated to your aircraft interior and will perform parts identification, follow-up and rectification. Autonomous Vans are fully equipped with the tools, material and consumables required for Line Maintenance including a laptop with internet connection.
Our engineers are supported by our CAMO PLUS approved under reference FR.MG.0125 and our MCC for trouble shooting. They are, through Aircraft Management System (AMS®), a powerful tool developed by AMC AVIATION, ensuring planning, preparation, logistics, storage and billing of maintenance work launched by our customers
Our line maintenance networks are organized around 9 stations :
• Paris Charles de Gaulle Airport(
CDG
)
• Paris Orly international Airport (
ORY
)
• Lille-Lesquin Airport (
LIL
)
• Nantes Atlantique Airport (
NTE
)
• Lyon Saint-Exupéry Airport (
LYS
)
• Modibo Keïta international Airport (
BKO
)
• Ouagadougou Airport (
OUA
)
• Dubai Airport (
DXB
)
• ABU DHABI international Airpot (
AUH
)
On call support can be provided on the following stations :
• Paris-Vatry (
XCR
)
• Paris-Le Bourget (
LBG
)
• Deauville (
DOL
)
AMC AVIATION also provides flying spanner services